Home > The Town > History > Origin and organization of the village
Bollards engraved in Villey's wood
The territory of Villey le sec has a common border with Chaudeney, on its west side. Before the revolution, this neighboring forest belonged to the Bishop of Toul, because he was Lord of Chaudeney where he had a summer residence, the seigneurial house.
From very ancient times, the bishops had allowed the residents of Villey to use these bordering forests for the vain pasture of their herds. They also had permission to cross these woods to go to their meadows located on the banks of the Moselle, to a place called "Radelot". Of course, this was not free and the resident had to pay an annual and perpetual census.
The residents have no doubt acquired the habit of using these woods and from generation to generation, part of the bishop's forests has become, in the minds of the people, the property of the community. This naturally led in 1725 to a dispute between the bishop of Toul and the residents of Villey.
There were therefore expert opinions, reports from forestry agents, searches for property titles concerning the timber subject to the dispute. In the end, the bishop won his case. In 1739, so that there would be no more ambiguities in the years to come, the bishop had landmarks set up, to clearly indicate the border between his woods and the woods of the community of Villey. And to make it clear, even for people who could not read, he had a bishop's stick engraved on it. But that was not enough, because this limit was, in addition, the border between France and Lorraine, (Toul was French for nearly two centuries, while Villey was still Lorraine).
He therefore had a fleur-de-lys, which was the emblem of the kingdom of France, added next to the butt. On the other side he had the cross with double crosses engraved, which was the emblem of the Dukes of Lorraine. This famous cross which was honored by General De Gaulle during the last war.
In fact the emblems engraved on these terminals did not serve long, because in 1766 at the death of Stanislas, France annexed Lorraine and Villey le sec became French. But the milestones have remained in place and this cross reminds us that we may have become European, but that our land has remained Lorraine.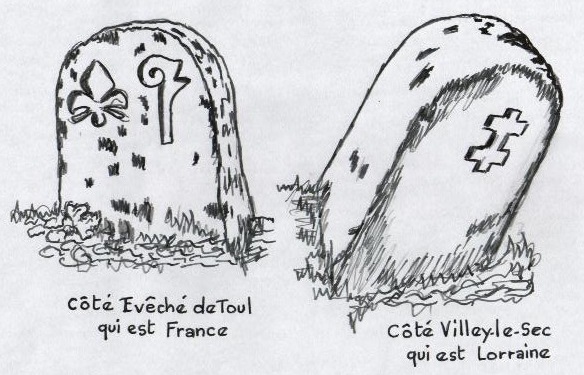 Jean-Pierre URIOT