Home > The Town > History > Origin and organization of the town
Engraved Landmarks
Villey le Sec territory shares his west side border with Chaudeney municipality. Prior to the French Revolution in 1789, this wooded area neighbouring ours belonged to Toul's bishop. This, as he was Lord of Chaudeney where he had a summer residence, the house seigneurial.
From a very long time ago, bishops had authorised Villey le Sec inhabitants the use of their neighbouring woodlands for their cattle grazing rights. They were also given authorisation to cross these areas to access their meadows located on the Moselle river banks, the locality named "le Radelot". Obviously, these rights were not free and inhabitants had to pay an annual fee, years on end.
From generation to generation, inhabitants became accustomed to use the bishop lands as they pleased and considering them part of the community. Consequently, in 1725, this brought animosity between Toul's bishop and Villey le Sec inhabitants.
As a result, this started a series of legal proceedings involving forest officer's reports and title search. In the end, arbitration was awarded to the bishop. In 1739, in order to avoid any future ambiguities, the bishop had stone landmarks installed to delimit his land boundaries. To make it even more obvious for people unable to read, he had the markers engraved with a bishop's crozier on his land side. But this engraving was found insufficient as the bishop land boundary was also the border between France and Lorraine, (the city of Toul was French for almost two centuries when Villey le Sec was still part of Lorraine).
Hence, the bishop asked to add next to the crozier, a fleur-de-lis, emblem of France and had the Lorraine cross engraved on the other side. This legendary cross of Lorraine or two barred cross, originally related to the Crusader's cross, was honoured by General De Gaule as the symbol of the Free French Forces of World War II.
At the end, the engraved landmarks didn't serve a purpose very long as, in 1766, after Stanislas death, Lorraine was annexed by France and Villey le Sec became French. These landmarks still stand today and this engraved two-barred cross may remind us that we once became European but that our land remains Lorraine.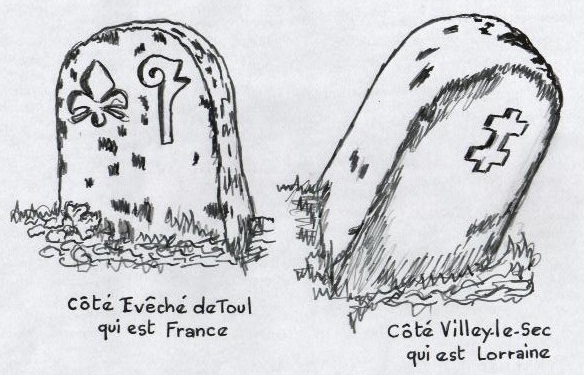 Jean-Pierre URIOT