The lock and the dam
by Guy BOYETTE
Guy Boyette, retired from navigation, presents the village dam and lock.
At the bottom of the valley flows a river: the Moselle
The various imposing constructions that you discover, located in the bed of the Moselle, are hydraulic structures intended to borrow water from the river for different uses. Carried out between 1975 and 1980, during development work to bring the navigation up to European standards, these structures include:
The lock
Its length is 187.50 m and its width is 12 m. It allows boats coming from the downstream reach (from the Toul lock) to continue their navigation on the upstream reach towards the Neuves-Maisons lock. Each of the reaches is about 10 km long.
From the bridge which overhangs the airlock, watch the passage of pleasure boats but also self-propelled vehicles and convoys pushed of 4000 tons.
The dam
It is composed of 3 movable openings formed of segments in the lower part, surmounted by valves. Each of the parts is movable articulated by jacks.
Its usefulness is to modulate the water flows to allow the maintenance of a constant water level, but also to manage the floods or the low flow of the river.
The Moselle, which takes its source in the Hautes Vosges massif at Bussang, can become an impetuous river, with flows close to 1000 m3/s. Conversely, it can have very low flow rates lower than 3 m3/s.
The lock and the dam are managed by Voies Navigables de France.
The hydroelectric plant began in May 1986. It is attached to the dam. As the name suggests, the structure is intended for the production of electricity using the waterfall induced by the dam. The plant does not operate during periods of heavy flooding or during a period of low water. The power station is managed by EDF.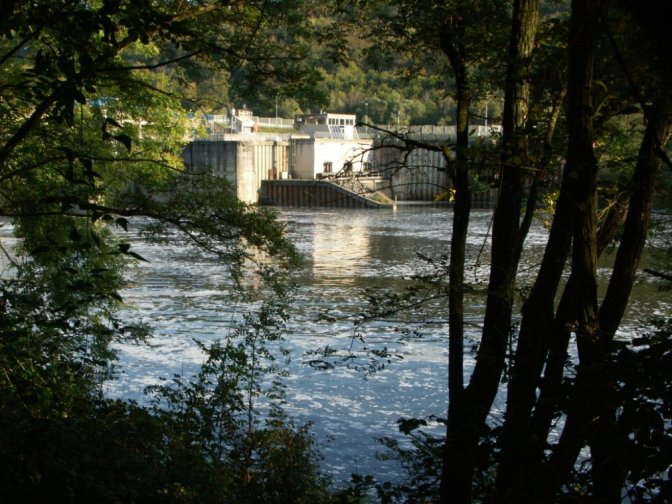 Guy BOYETTE
Ce site témoigne bien de l'évolution de la technique. Il remplace une partie du Canal de l'Est branche Sud construit après 1870 et son barrage à aiguille et planchettes manœuvrées manuellement par tous les temps jour et nuit. Il remplace également l'écluse au gabarit Freycinet et les péniches halées ou tractées.
Where is the old Villey le sec beach and its tavern where swimmers' laughter still resonates?